LAK PROJECT: Yalumba Restaurant at Le Méridien Dubai Hotel
发布时间:2021-03-02 丨 阅读次数:2366
今天让我们来参观迪拜机场附近艾美酒店(Le Meridien)的Yalumba餐厅。
Today, we would like to share the Yalumba Restaurant at Le Méridien Dubai Hotel.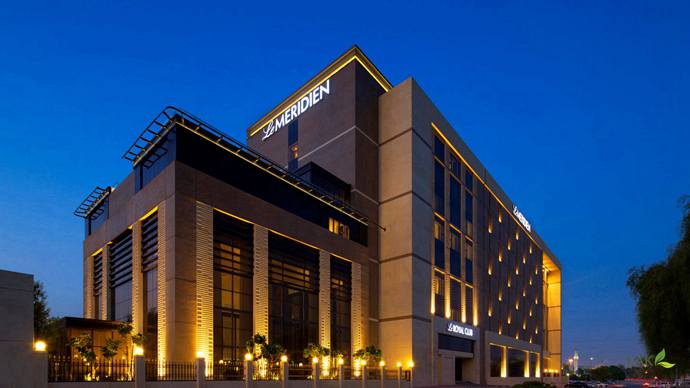 艾美酒店可以说是从闹市中甄选出的一片隐蔽天堂,享有田园诗般的青翠环境,精致优雅,充满魅力。
Refined, exquisite and inviting, Le Méridien Dubai is a hidden heaven that enjoys an idyllic and verdant setting in city location.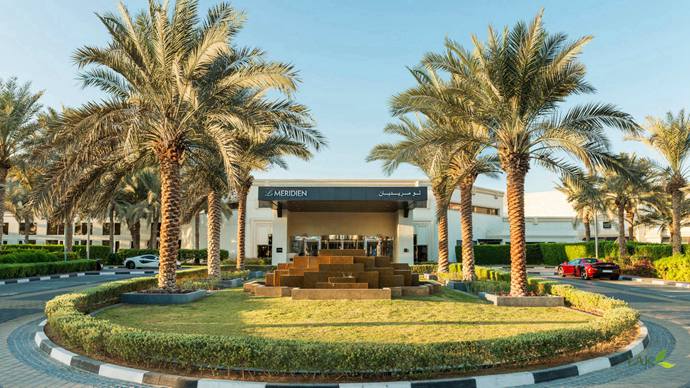 而这里最受人追捧的除了五星级酒店住宿外,还有它强大的餐饮服务。Yalumba餐厅正是久负盛名,无论是从装饰设计或出品来说,都尤其出类拔萃。
Besides the five star living experience, the hotel owns 18 restaurants for guests to choose from. And Yalumba is most popular not only its decoration but also the cuisine.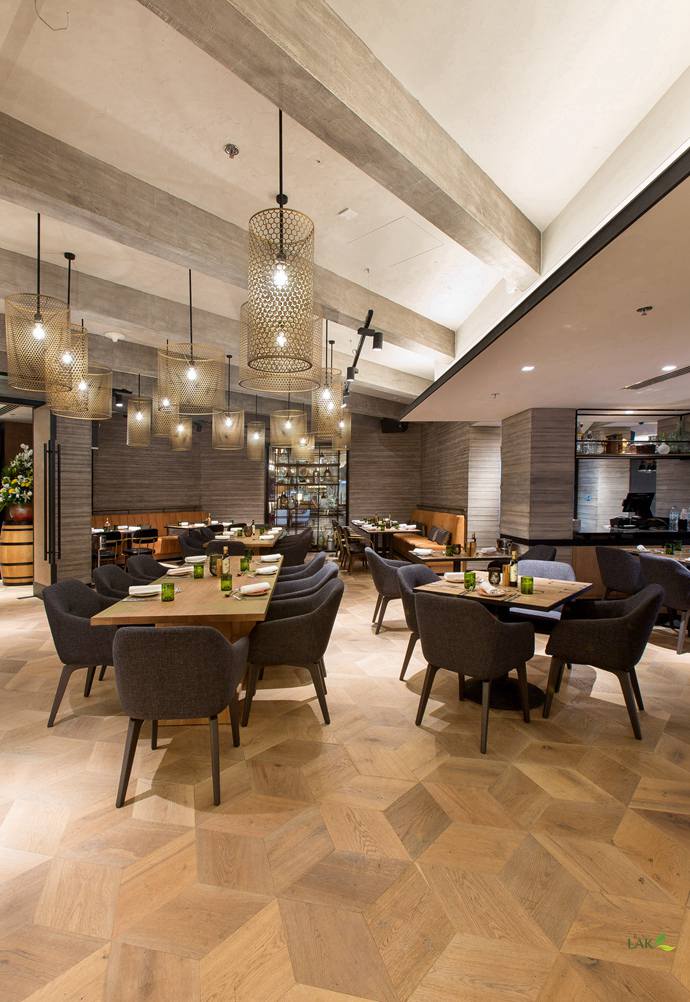 Yalumba餐厅的乡村主题设计灵感正是来源于其同名酒庄–御兰堡酒庄,该酒庄地处澳大利亚的布诺萨山谷,拥有170年的悠久历史,是澳洲最古老和闻名的酒庄之一。
The country-themed design of Yalumba Restaurant is inspired by the Yalumba Winery, which of the same name and is located in Australia's Bunosa Valley. The winey has a 170-year history and is one of the oldest and most famous winey in Australia.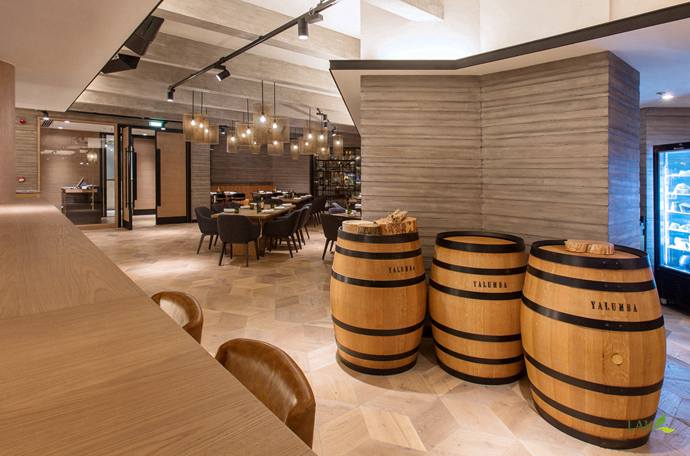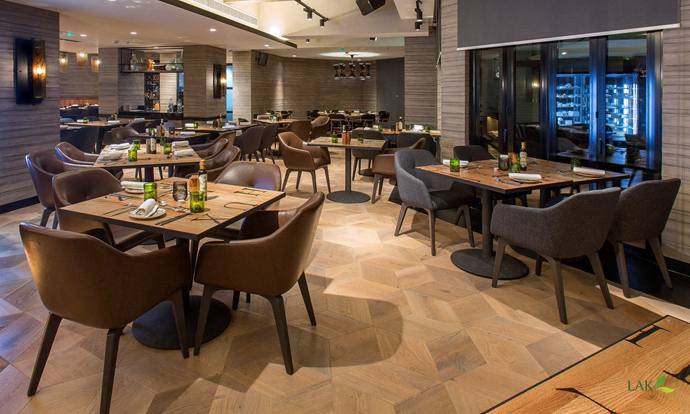 餐厅暖黄色星星点点的吊灯和明亮的射灯交相辉映,咖色带纹理实木面+磨砂黑钢脚的餐桌,配上黑色亚麻棉质或棕色皮质的简约座椅,整齐有序。
Being decorated with pendant lights and spotliaghts, and modern table and chair with touchable surface, Yalumba provides the top dining atmosphere.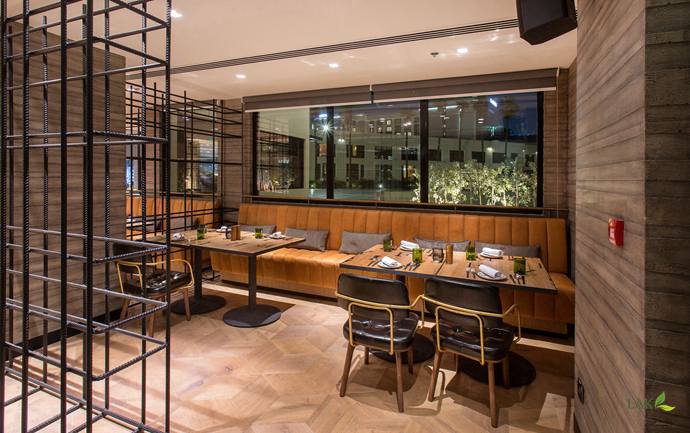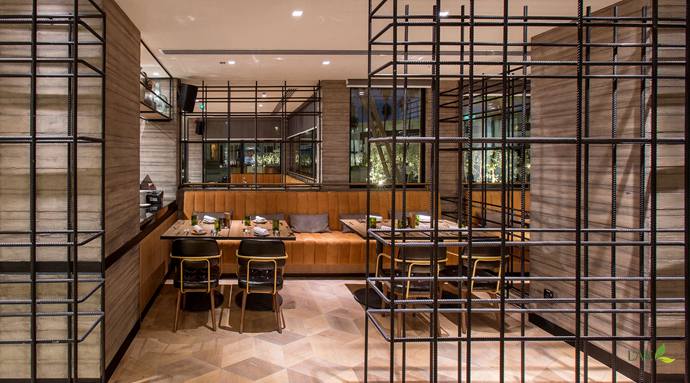 全木质的地板和墙面,钢架镂空线条感的隔断,无不体现了设计师的用心和对卓越品质的追求。
Whatever the application of wood flooring, or hollow cut-off of steel, the whole decoration reflect the designer's intention and pursuit of quality.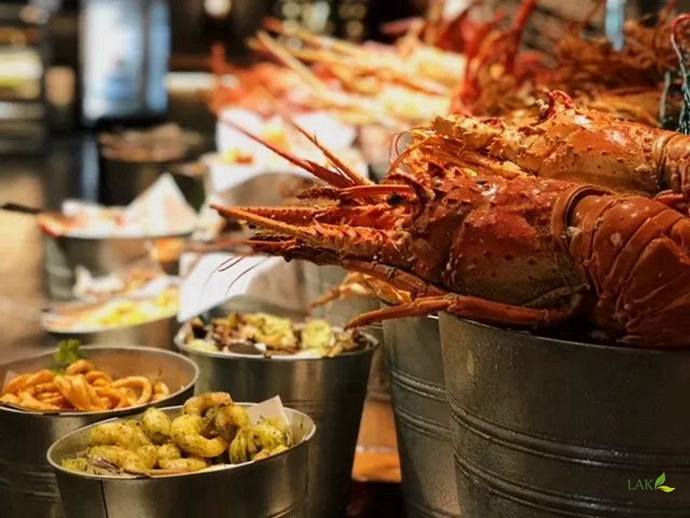 在这里,宾客可以在精致休闲的氛围中,一边品尝中西风味的美味佳肴,一边听着轻快的爵士乐,自在舒适感油然而生。
Here the guests can enjoy the delicious cusine with jazz music. Everything is nature and cosy.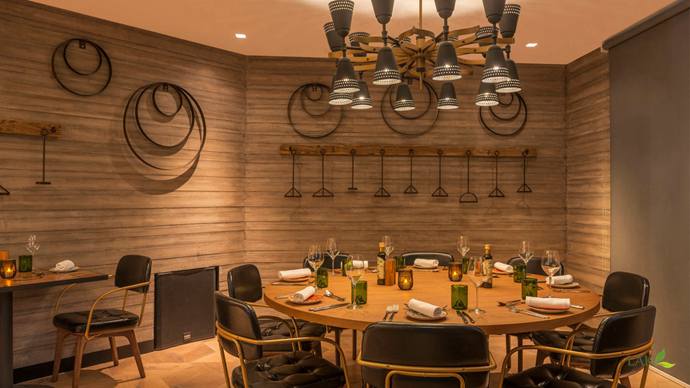 Yalumba餐厅的地面,采用了LAK旗下摩派(Monpar)3D热处理橡木地板,其原料来自于意大利200年以上的橡木成材。大自然是最好的设计师,让地板具有了最自然的色泽和质感。这款3D几何形地板采用了深色和浅色交错拼接的安装方式,具有独特的立体效果,让人过目难忘。
The flooring comes from Monpar 3D Thermo of LAK, applying the material of oak tree of more than 200 years in Italy. Nature is the best designer to define the wood's color and texture. The 3D Thermo Oak flooring is impressing that installed by light and dark gradation and demostrated with 3D effect.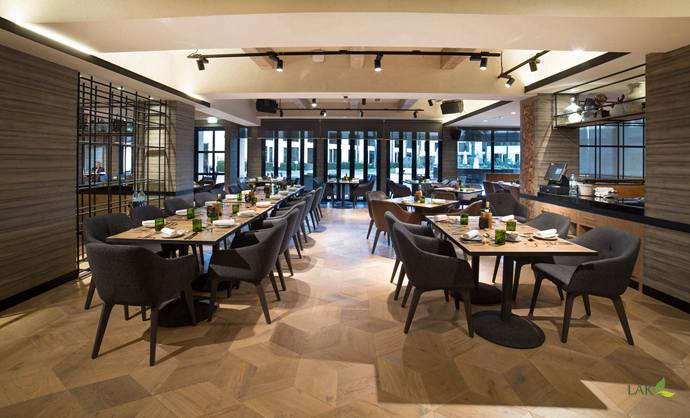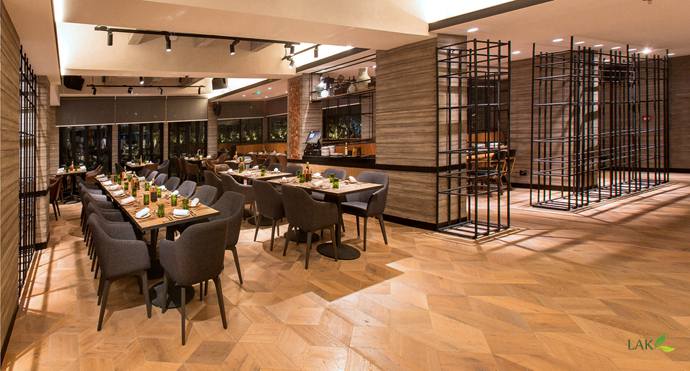 摩派(Monpar)工厂位于意大利东北部的阿隆泰(Alonte),专注于地板制造数十年,所有Monpar地板均为100%意大利生产。
Located in Alonte, northeast of Italy. Monpar was establshed decades ago. It focus on manufacture of wooden flooring and all products are 100% made in Italy.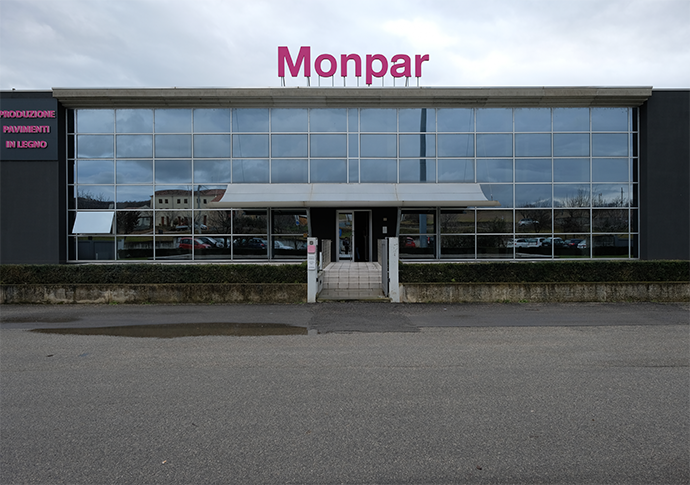 摩派(Monpar)的首席设计师 Carlo Dal Bianco 是知名的建筑设计师,毕业于威尼斯建筑学院,曾从事重要历史遗迹的修复工作及产品设计工作。在其很多作品中,都引用了意大利,法国,德国等诸多国家的历史文化为素材。
As Monpar's chief designer, Carlo Dal Bianco is a prominent architect and was graduated from the Venice School of Architecture. He worked on the restoration of important historical sites and products design. Most of his artworks are based on the history and culture of Italy, France, Germany ect.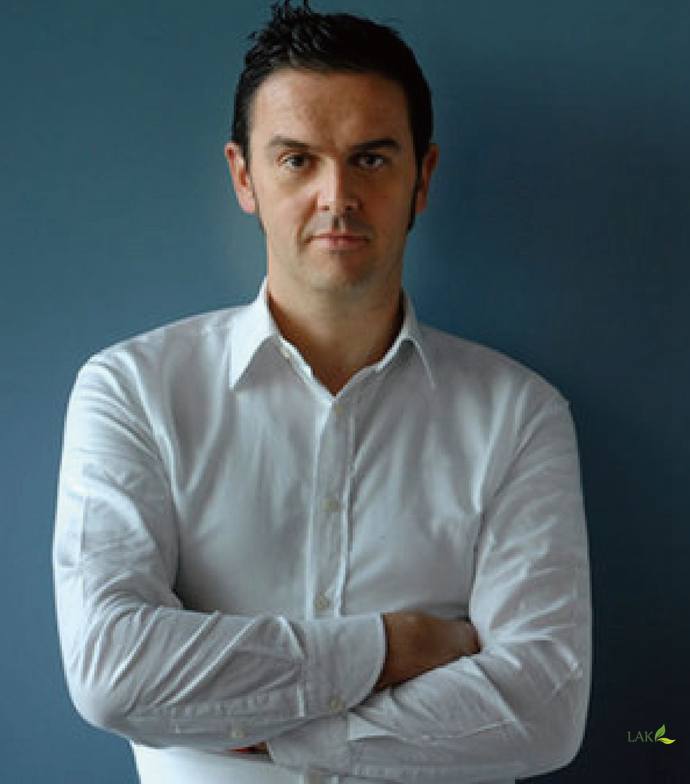 2011年,Carlo开始与摩派(Monpar)合作。他设计的地板简单有力,独具一格。以不规则几何形状摆放,实现了无数种异于常规木地板铺设方式的可能。配色以经典的原木色和黑白灰为主,运用奔放大胆的元素进行组合,同时创造了空间的延续性,更具现代感的视觉冲击力。
In 2011, Carlo started to design geometry flooring for Monpar. The flooring he designed is simple but unique, which can be installed in numbers of way. Combined the natural wood color with black, white and grey, the flooring creates the visualization of space continuity and modern impact.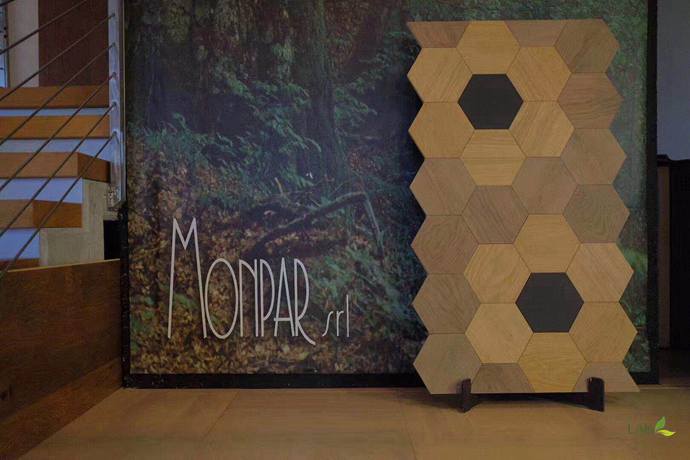 同时,摩派(Monpar)地板以精湛的手工工艺和稳定性而闻名,地板表面处理由具备20年以上经验的意大利老工匠手工刷制而成,并采用手工植物染色,让木地板拥有浑然天成的原木质感及自然色泽。
Meanwhile, Monpar is well know for its exquisite craftsmanship and stability. The surface treatment is required to be handled by the Italian craftsmen with more than 20 years of experience in flooring production, that make flooring perfectly match the natural color and real wood touch.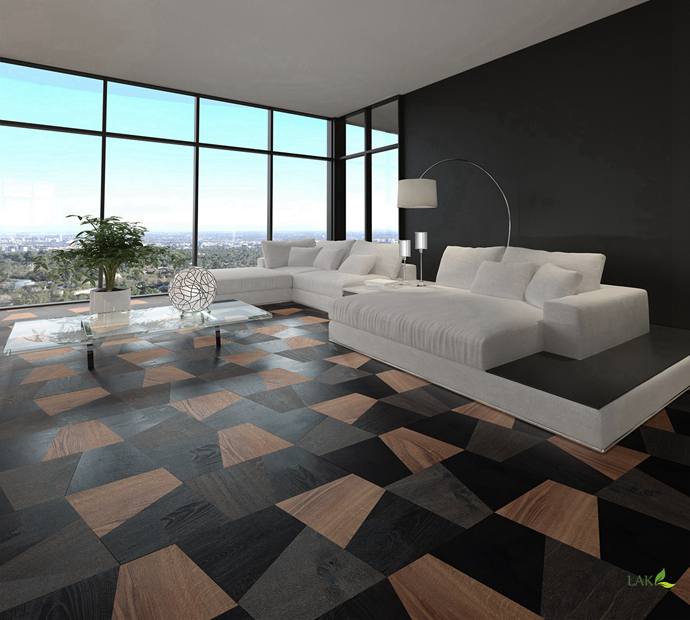 摩派(Monpar)是意大利手工高端订制地板的代表,它带着无与伦比的质感和丝丝入扣的美感,深受追求品味与个性的人们所喜爱!
Monpar is pronoun of Italian high-end handmade flooring. Monpar flooring are made with the unparalleled and surface incomparable beauty, which valued by people of pursuit of individuality and taste!