Opening Celebration of LAK Growth Ring Art Gallery
发布时间:2022-10-27 丨 阅读次数:1520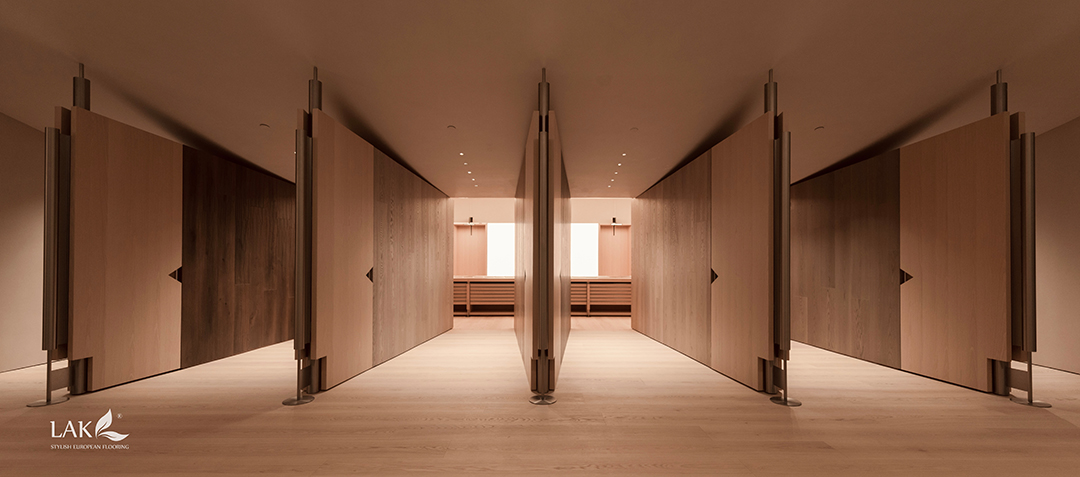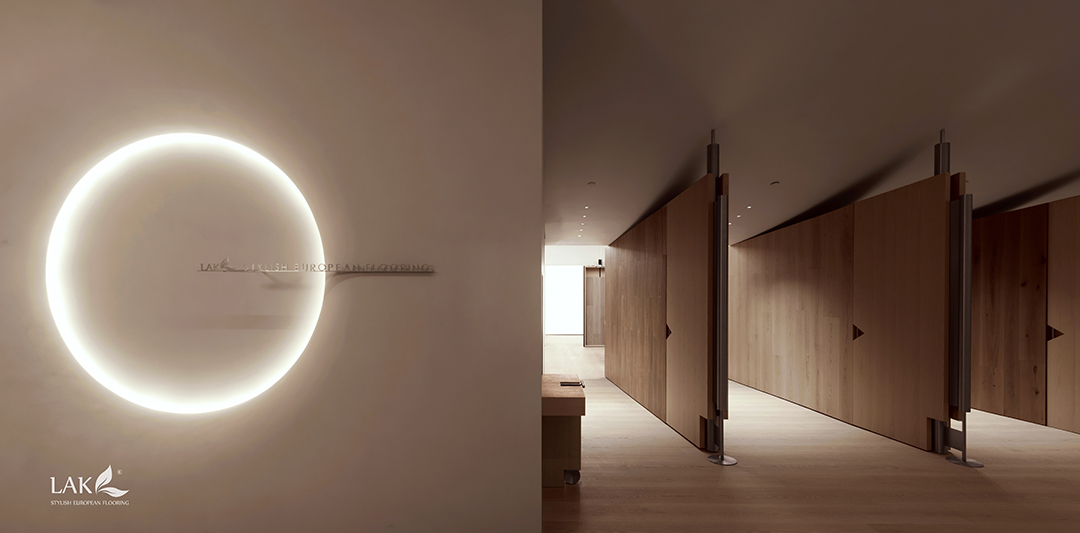 古人云
一年之计,莫如树谷
It takes one year to grow grains
It takes ten years to plant trees
while
it takes one hundred years to educate people
2022年9月8日,LAK
成立
十周年
之际,LAK年轮艺术馆在广州罗浮宫家居艺术中心盛大启幕。
On September 8th, 2022, on the occasion of the 10th anniversary of the LAK' founding, LAK Growth Ring Art Gallery opened in GuangZhou Louvre Furnishings Art Center.
LAK年轮艺术馆是由广州
普利策
设计公司(
PONE
Architechture)创始人
何思玮
先生亲自主持设计,融合了建筑设计理念,历时半年精心打造的至具品位欧洲进口木地板展厅。
LAK Growth Ring Art Gallery was designed by Mr. Golden Ho, the founder of Guangzhou PONE Architechture. They spent half year to build the stylish European flooring gallery carefully,by integrating architectural design concepts.
Mechanical aesthetics and space poetry
艺术馆的设计汲取了柯布西耶机械美学与空间的关系,路易斯康古典诗意的建构哲学和密斯极简精神,从结构设计、陈列构建到软装设计、家具研发等作出了一系列的创新与变革,展现了艺术馆的理性与诗意,传承与超越。
Drawing on the relationship between Le Cobusier's mechanical aesthetics and space, Louis Isadore Kahn's classical poetic construction philosophy and Ludwig Mies Van der Rohe's minimalist spirit, the design of art gallery make a series of innovations and changes on structural design, display construction, soft outfit design and furniture's R&D. It shows the rationality and poetry, and inherits and innovates of the art gallery.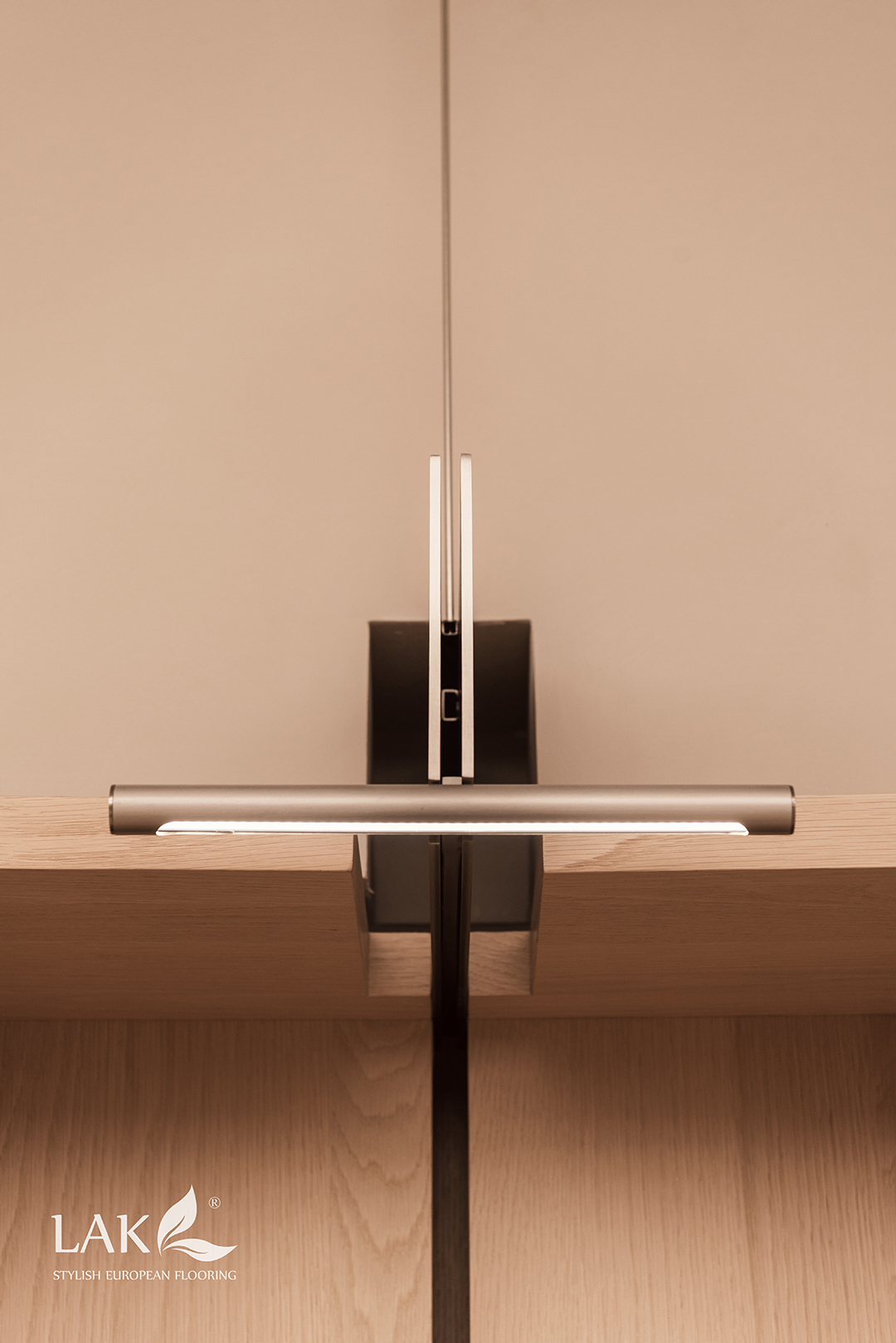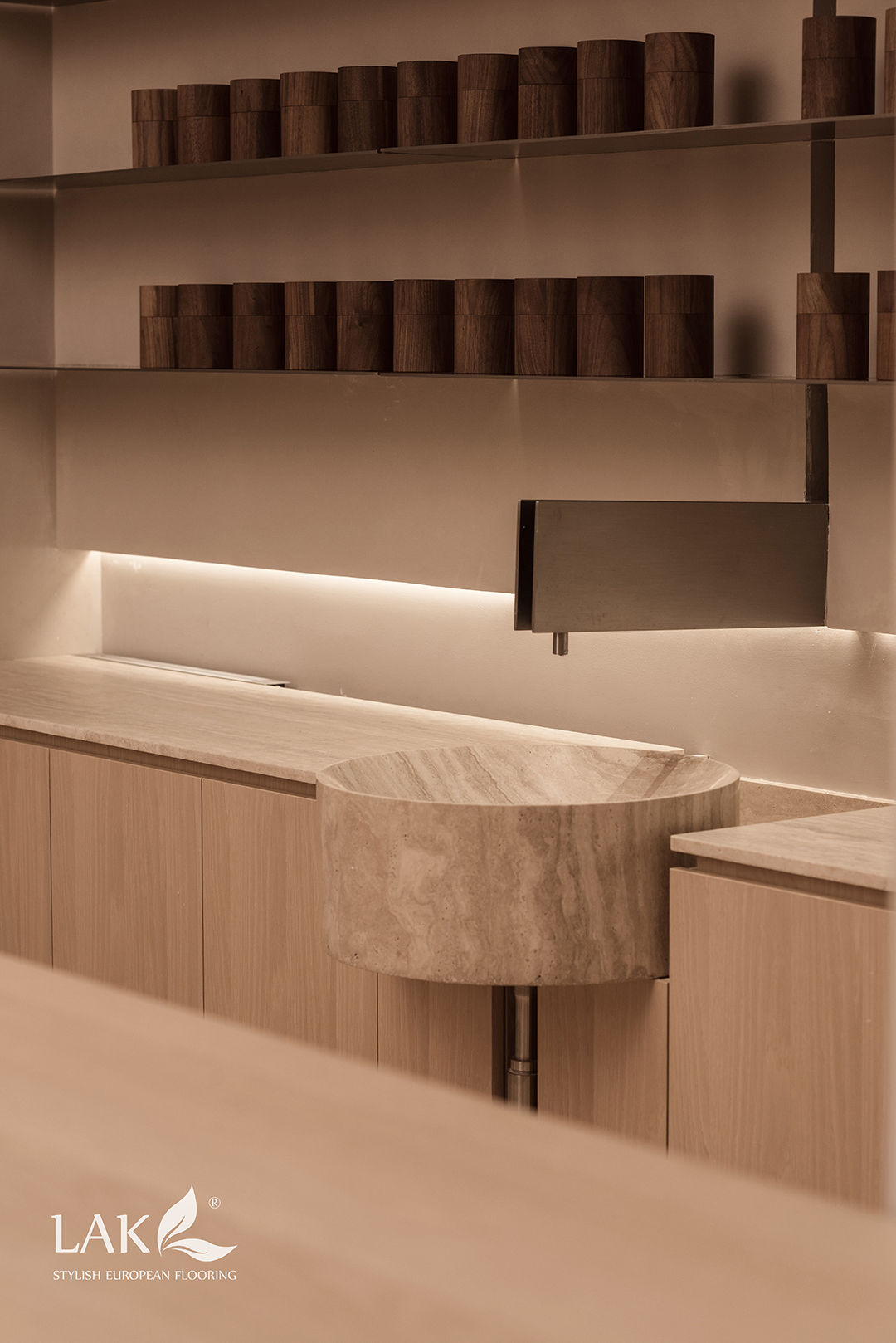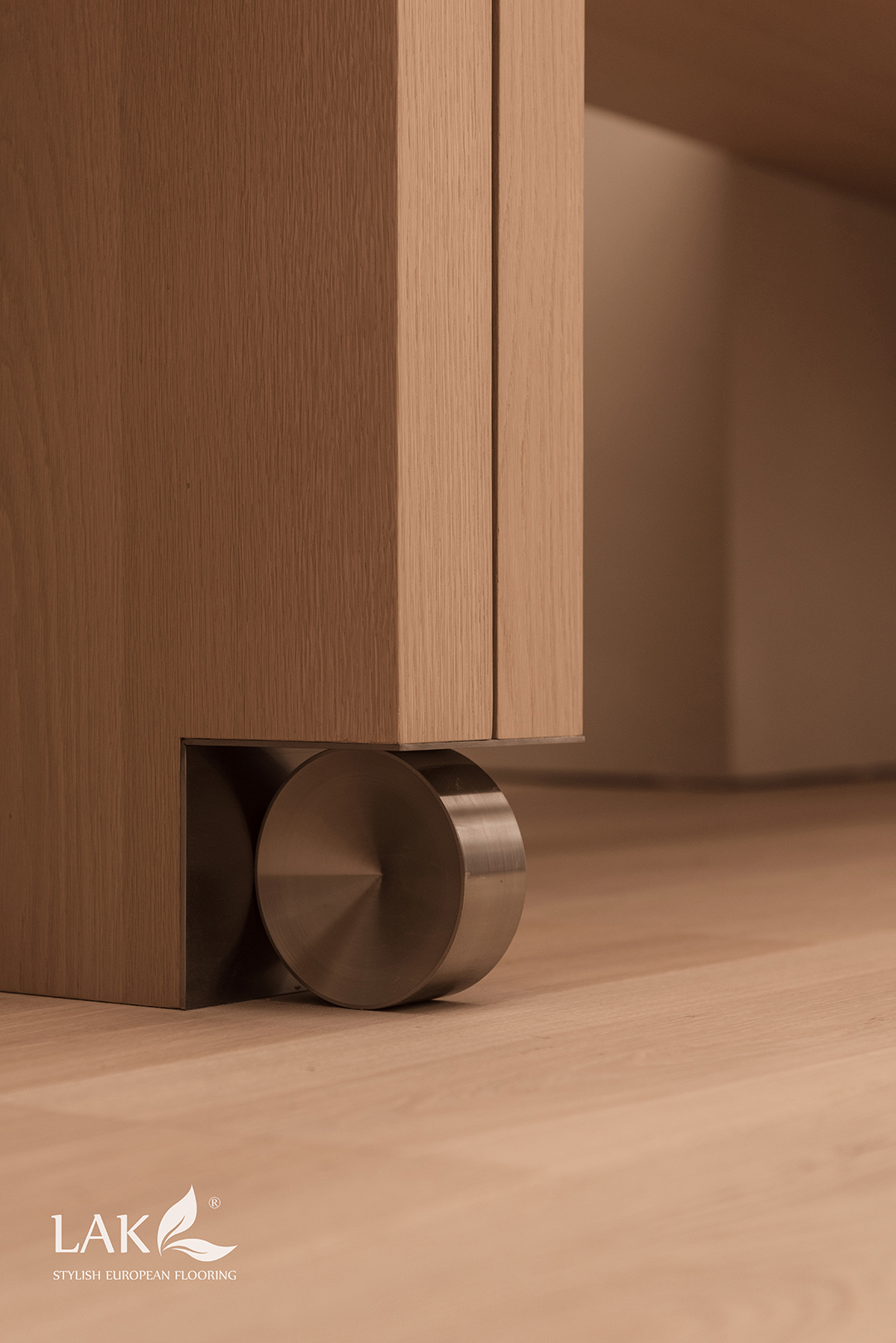 艺术馆内诸多创意的几何形定制及应用,彼此呼应,蕴含了巨大的张力。木地板的产品陈列也从传统的直白展示转变为纵横切片式、岛屿式、画廊式的递进阵列呈现。完美诠释了LAK品牌的全新升级。
The customization and application of many creative geometric shapes in the gallery enhances each other and contain great tension. The product's presentation changed from the traditional straightforward display to the progressive presentation of vertical/horizaontal slice, island, and gallery, which perfectly explains the upgrade of LAK's brand.
Thanks to the fully supporting of PONE!
LAK年轮艺术馆开馆仪式当天,何思玮、梁穂明、彭征、胡小梅、韦杰、何永明、李友友等行业大咖朋友们也一同来到现场,共同见证了这别开生面的特殊时刻。
On the opening day of LAK Growth Ring Art Gallery, the industry celebrities such as Golden Ho, Ming Leung, Peng Zheng, Hu Xiaomei, Vinck Vai, Tony Ho, and Evans Lee attend the celebration witness this special moment.
开馆仪式现场,毕业于南京艺术学院的自由舞者易依,为LAK十周年庆典全新创编了现代舞,一曲《Everything I do,I do it for you》的倾情演绎,就像是讲述着Everything LAK do,LAK do it for you的心声。通过音乐和舞蹈,传递品牌对家居艺术的追求与态度。
At that moment, Yi Yi, a free dancer who graduated from Nanjing University of the Arts, created a new modern dance for LAK's 10th anniversary celebration. The passionate performance of "Everything I do, I do it for you" was like telling the aspiration of "Everything LAK do, LAK do it for you". LAK conveys the brand's pursuit and attitude towards home furnishing art through music and dance.
LAK十年的发展
离不开各欧洲厂商的大力支持和共同进步。各厂商负责人

因

疫情

不便到庆典现场,但也送来了诚挚的视频祝福!
LAK's ten year development is inseparable from the strong supporting and mutual improvement of European manufacturers. Because of the current epidemic situation, it was inconvenient for the heads of manufacturers to come to the scene, and they sent sincere video wishes for the celebration!
卓越贡献奖获
得者:工程管理部莫智强、国际贸易部Linda
Prizemen of Outstanding Contribution Award: Mr. Mo Zhiqiang from the Engineering Management Department, and Linda from the International Trad
e Department
十年的坚持
离不开团队伙伴的不忘初心和开拓进取。感谢志同道合、德才兼备、同舟共济的同事们。
Ten years of perseverance is inseparable from the teams and partners' original aspiration and pioneering spirit. Thanks to all colleagues who share the same ideals, combine ability and integrity, and pull together in times of trouble.
未来的前行
更离不开客户和朋友们一如既往的支持与信赖!
Ten way of going ahead, is inseparable from the supporting and trust of customers and friends as always!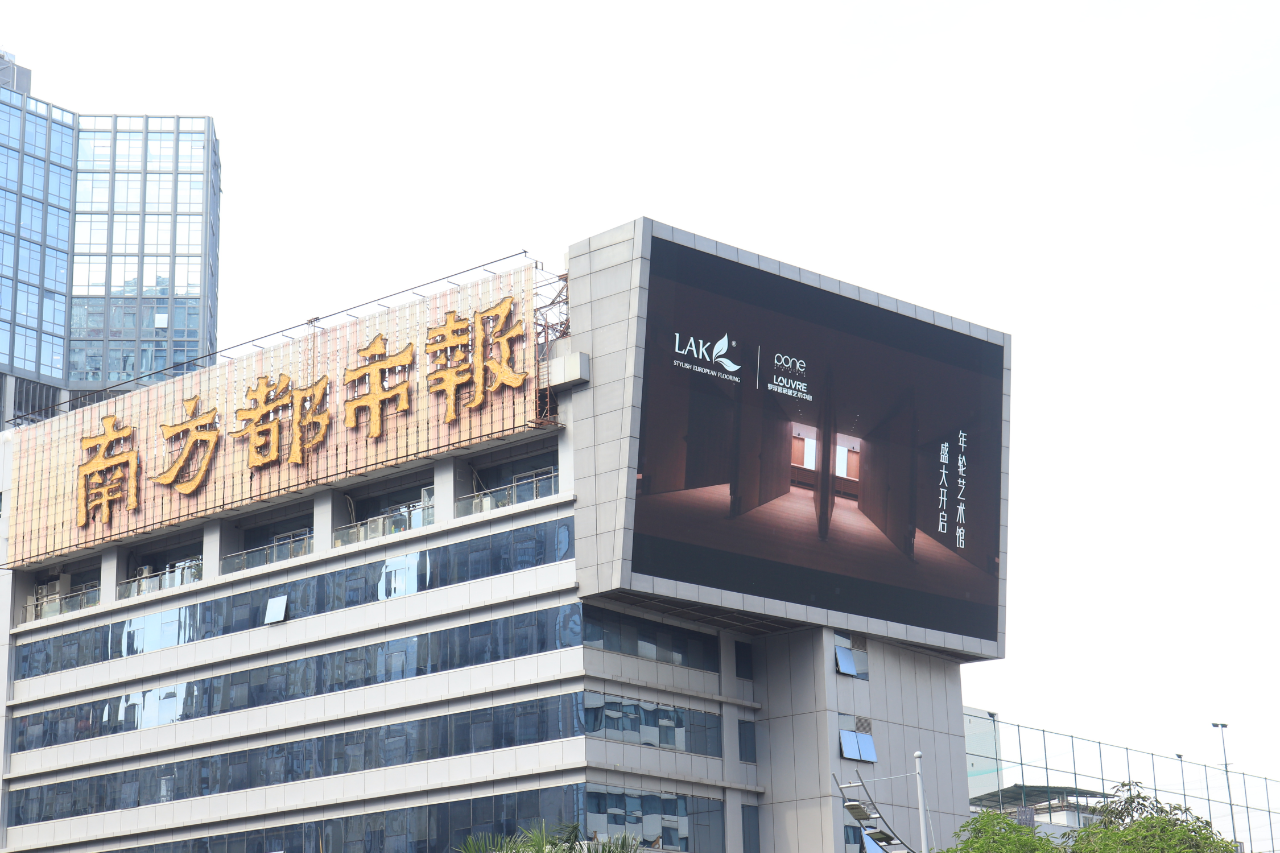 当晚,见证LAK年轮艺术馆开馆仪式的朋友们和同事们一同来到广州W酒店,欢庆LAK十周年,为美好的未来干杯!
On the evening of the opening celebration, LAK's friends and colleagues who attended the meeting came to W Hotel Guangzhou to celebrate LAK's tenth anniversary and toast to the bright future!
LAK 始于2012 年3 月,总部设在广州,并在全国各地设有专卖店。LAK欧洲进口木地板旗下拥有意大利摩派(Monpar)、德国托赫(Ter Hürne)、匈牙利玛帕(Mátraparkett)、西班牙菲萨(Purefloor)等欧洲一线木地板品牌,是全国多家大型企业集团的战略供应商。
Started in March 2012, headquartered in Guangzhou, LAK has established franchise stores throughout the country. LAK imported first-line European wood flooring of the btands such as Italian Monpar, German ter Hürne, Hungarian Mátraparkett and Spanish Purefoor

.

LAK, is a strategic supplier of numbers of large enterprise groups across the country.
LAK木地板秉承悠久的欧洲制造工艺传统,环保自然、独特精致、注重设计,拥有市面上众多别具一格的花色及品种,涵盖了三层、多层、独体、户外及强化地板产品线,提供一站式安装售后及保养服务。
LAK wood flooring, adhering to the long European manufacturing tradition, is environmentally friendly, nature-followed, unique and exquisite, and pays attention to design. With many unique colours and inimitable items, LAK owns the flooring of three-layer, multi-layer, solid wood and laminate, and provides one-stop service including installation, after-sales and maintenance.
地址:广州市黄埔大道中罗浮宫家居艺术中心B馆2楼821-822
LAK Growth Ring Art Gallery
Address: 821-822, Floor 2, Building B, GuangZhou Louvre Furnishings Art Center, 666 Huangpu Dadao Zhong, Guangzhou
Welcome to LAK Growth Ring Art Gallery!